All foreign participants will be arriving at Mexico City Airport (AICM, Aeropuerto Internacional de la Ciudad de México). We give hereafter indications on how to get to the bus desk, and we suggest a meeting point to gather with participants from other flights. Those arriving at Terminal 1 will be exiting the customs on the ground floor. The bus desk is on the first floor. When exiting customs, turn left and walk until you see a conveyor belt leading to the first floor on your left (note as you walk along the main corridor that there are many ATMs around which accept international credit cards and account cards). Once on the upper floor, look for the fast food area (it is a relatively small place). We suggest to use one of the sides of this fast food area as a meeting point, as in the sketch below (click on the picture to see a full resolution version).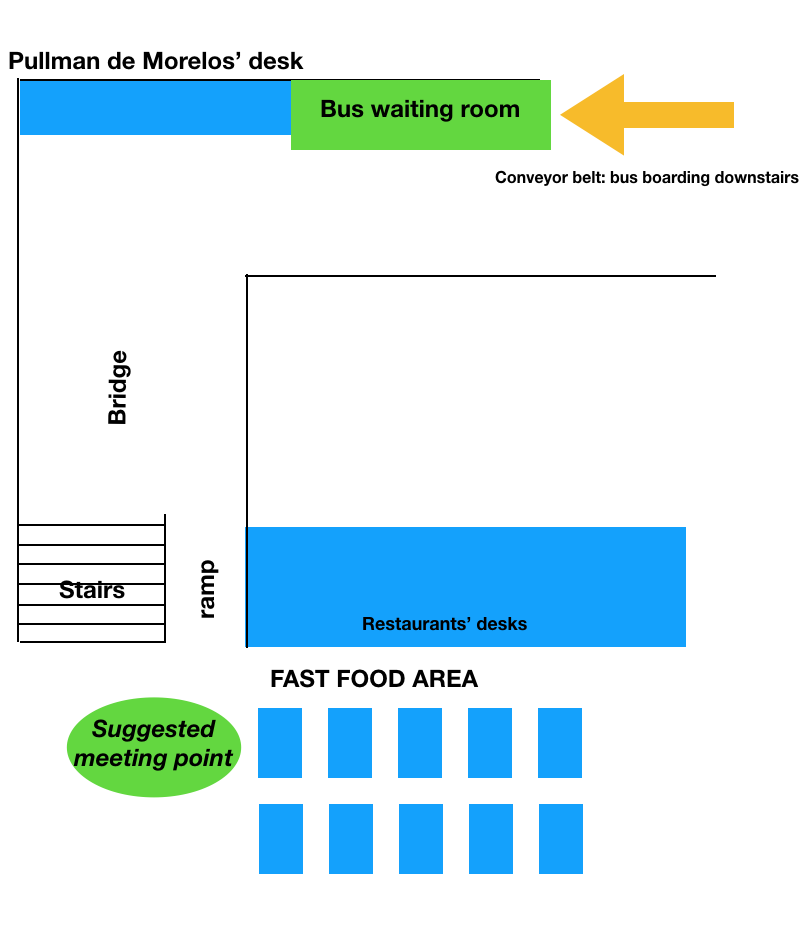 The suggested meeting point is at one end of a bridge that leads directly to the desk of Pullman de Morelos (the regular bus line that goes to Cuernavaca). Ask for a ticket to "Cuernavaca" (the only destination in Cuernavaca is indifferently called "Cuernavaca", "Cuernavaca Casino de la Selva" or "Cuernavaca Casino", that's all the same place). You can check your luggage when you buy the bus ticket (230 MXP per person). You will be given a luggage receipt, which is required to claim your luggage on arrival. You can then go to the waiting room. The buses are announced approximately 15 minutes prior to their departure. Once your bus is announced you can take the conveyor belt to the boarding platform. The bus to Cuernavaca is usually very close to end of the belt, on the right side. The logo "Pullman de Morelos" is written on its sides.
Information for those arriving at Terminal 2: this terminal is much smaller than terminal 1, and finding the bus terminal is much easier than finding the bus terminal of terminal 1. Terminal 2 is essentially a rectangle, and the bus terminal is on one of its small sides. You can ask any guard in the exit hall for the bus terminal (terminal de autobuses). We suggest to use the bus terminal as a meeting point.
Note: A bus ride from the airport to Cuernavaca starts at Terminal 1. Ten minutes later, the bus makes a halt at Terminal 2, picks up travellers, and then goes non-stop to Cuernavaca. With a bit of coordination over Whatsapp or email, you can save yourself from a terminal change and simply meet with colleagues directly in the bus at Terminal 2. If you really want to change terminal prior to boarding the bus, you may take an inter-terminal bus (transporte interterminales), for a fare of 12.5 MXP (payable directly to the driver). The inter-terminal bus is located near exit gate 6 in Terminal 1, and near exit gate 4 in Terminal 2. The train that links both terminals can only be used by travellers with a valid boarding pass (i.e. travellers about to depart), and therefore cannot be used upon arrival.